Last year, my Thanksgiving centerpiece was admittedly a bit "over the top". Hovering 9 feet above the ground, I created a thankful tree with a couple of branches that I trimmed from a tree in my yard. Guests chose one thing they were thankful for, wrote it on a hang tag and hung it on the "tree". The gratitude activity was a success but after the long weekend was over and the gluttonous leftovers where gobbled up, it was time to get double duty out of those branches. I wanted a different look for December, but I didn't want to overpower the simple beauty of nature with anything busy. The choice was tiny red bulbs. Period.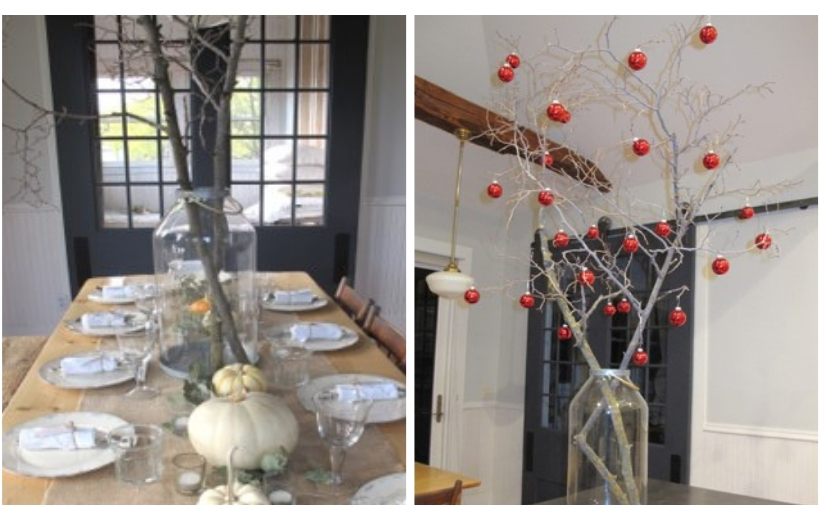 How to extend the use of your fall decorations into the winter holiday season
Even if you don't have an enormous thankful tree, you might have a pumpkin collection and maybe some foraged items from nature or the farmer's market in your home this month. If they are still in good shape, here are some ways to extend their use.
Festive Farmhouse
Fill a galvanized bucket with a cluster of tiny white lights. Nestle a collection of small gold spray painted pumpkins and/or white pumpkins in the lights.
Layer It
Use a clear tall cylinder vase to alternate layers of small white pumpkins with pine cones. For more height and drama add tall sprigs of whatever bare branches you have in the yard.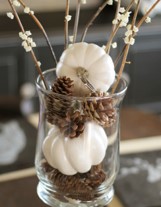 Red, White and Green Mix Up
A centerpiece with white pumpkins, green pumpkins, pomegranates, cranberries and candles, surrounded by eucalyptus, holly or whatever greenery you have handy can be arranged directly on a large table for a organic holiday look.
Contributed by: Brenda Lang. Owner | Stager of Stage Sisters