This spring and Marie Kondo of Netflix's 'Tidying Up' may have you organizing, cleaning and decluttering your home. After all the excess stuff is gone, the Christmas tree has been put away or thrown to the curb, you may feel like your home needs a punch of color or some new plants to bring life back into your home.
This spring, our interior expert, Brenda Lang has identified a few key things to bring your home to life. Brenda Lang owns and runs a staging business in Livermore, CA and has a keen eye on what is happening in the world of interior design. With her keen eye, she has identified Mustard as a key color for the home. Tone down this rich color with neutral whites and grays. Add rich texture with textile wall hangings, embossed tin tiles, vertical plant displays and cacti.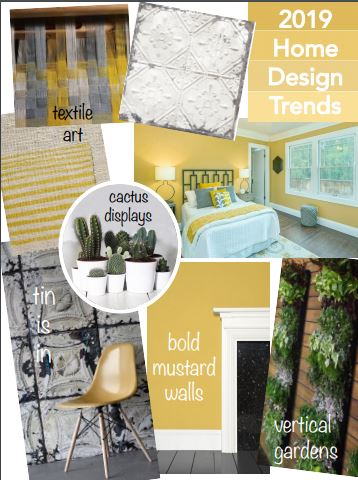 There are so many ways to incorporate these fun trends into your home!
If your walls need a refresh, try a bold mustard color on the walls or on an accent wall.
If paint isn't your thing, try adding some textural fiber wall hangings like this one.
Vertical gardens have been around and can work both indoors & outdoors. Liven up the front porch with a vertical succulent garden or your living room by adding a living wall, such as this one.
Add depth to your ceiling or walls with tin tiles. There are several designs and colors to choose from
Cactus plants are in and very resilient. You can find live cactus or faux cactus (if you don't have a green thumb). Mixing different cacti species and various heights in a corner can add dimension and greenery to your home.
Spring decorating made easy with some organization and some fun pops of color & texture.